Previous versions
In case you mistakenly changed something in your form design, or simply prefer the previous design to the current one, you can always revert it to the previous design that was saved earlier.
Under the Design Mode, you will see the Previous Versions button in the upper right corner.

You'll be able to view all previously saved design versions in the menu. After you select one of the versions to restore, click "Restore" to view its design.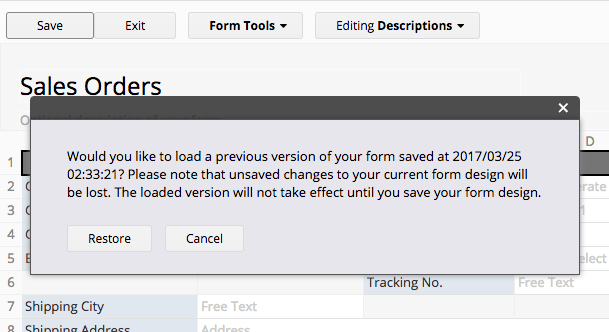 If you are certain to use the chosen version, save the form design for it to take effect.
Note: the chosen previous version will be restored only if you click the "Save" button. Therefore, even though you click on the wrong version, your form design won't be saved immediately.
Important: it is suggested to save design periodically when working on a form design.
If you make a lot of changes in a version and wish to undo the design, you can exit the Design Mode without saving the changes (since manually changing the design back is more time-consuming).
History Analyzer
If you would like to check major design changes between each design version, you can use the History Analyzer, which can be found by clicking the graph icon within the Previous Versions menu.
In the History Analyzer, the details for each design version, such as new fields that were added or modified field types will be shown.
Please note that only significant design changes will be shown in the History Analyzer, such as formula, field name, field types, etc.
Field Info
SYSAdmins and Group Administrators (under the configured group tabs) can select to see the field info by right-clicking on any field on the form page.
In field info, you can obtain information on this field's configuration and its design change history in all versions.