What are User Groups?
By adding users to different user groups, and setting up access rights on each sheet, you can manage the level of access - viewing, creating, or modifying entries - each user group has on each sheet.
Add or Modify User Groups Through your Account Setup
You can add new user groups by clicking the hamburger icon on the upper-left of the page, and select Groups under User Access.
You can then add or edit user groups in this sheet.
Note:
1. Please do not modify any system default group names.
2. Group names must not be duplicated (even in different letter cases).
3. Group names cannot contain "&", ",", or "=".
Group Administrator and Tabs
Group Administrator:Group administrators can create, update, and suspend users in the user group. They can also add sheets to a Group Tab or make design changes to the sheets under a Group Tab.
Group Tabs:To add a tab as Group Tab, enter the tab's URL slug in the Group Tabs field (e.g. /forms1, as it appears in the last part of the tab's URL). Separate each tab by commas when there are multiple tabs.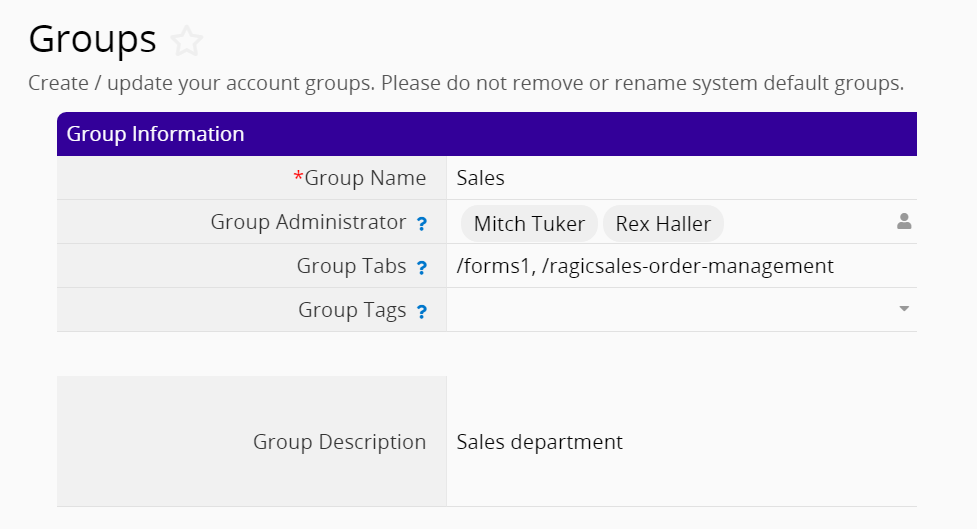 When the user has been assigned or removed as group administrator, he/she will receive notification mail.


Add user groups under Design Mode
You can quickly add a new user group under Design Mode while you are setting up access rights. Go to Form Settings > Access Rights, and click on "Add User Group" under the list of existing user groups.