I have a lot of users outside my company that use our DB once in a while, how can I save on user licenses?
There are some alternatives to handling a large number of external users.
1. Public sheets: You can set up the sheet so that everybody can access it without logging in with a Ragic account. If your application does not require access right management by users, you can simply set the access right from Everyone to Survey User so everyone can fill it out. Or to Bulletin Users so that everyone can not only fill it out, but also see other people's entry.
If the user needs to log back in the system later and look at the latest status of their entry or provide updates, take a look at the next approach "E-mail Id".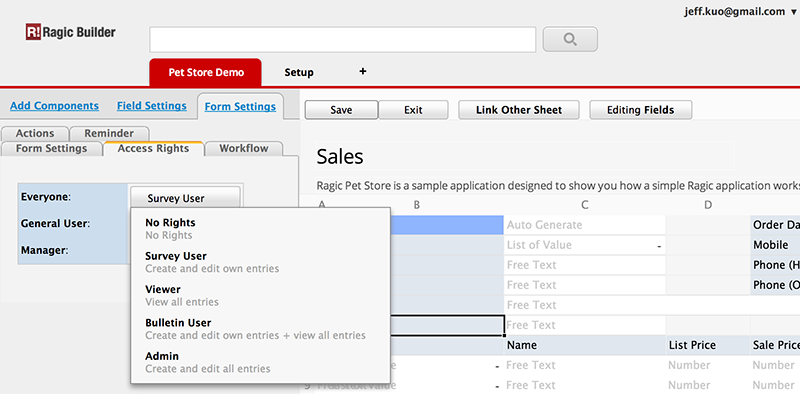 2. E-mail Id: Ragic has a convenient way of giving a user temporary log in without him having an account on Ragic. It can be done by setting an E-mail Id. attribute. When this attribute is set to a field in the form, user will need to put down his e-mail in this field. As the form is saved, Ragic will automatically send an e-mail to this e-mail address. This e-mail will contain a link that can authenticate that the user is the owner of this e-mail as he use the link to log in Ragic.
Now Ragic knows who this user is, even though he has no Ragic account. Ragic can determine which records that he can see and which records he can edit. This is usually used so that the user can see changes or edit the entry that he created.
The shortcoming of this approach is that (1) the user will always need that e-mail to log in, (2) users cannot be managed in groups, therefore cannot assign different privileges to them through Ragic's standard groups and role.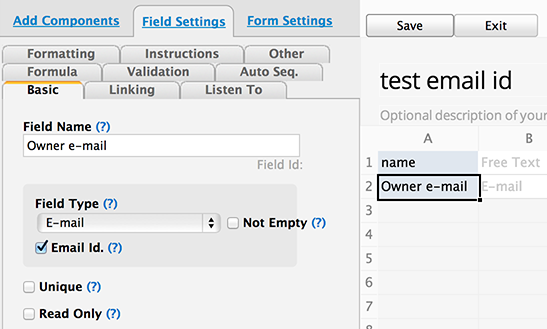 3. Volume Licensing: While Ragic is not a costly solution, but if the number of user license needed is large, it can seem pretty expensive. Ragic understands this and have volume license and site licenses for you to choose from. Please contact "sales@ragic.com" and describe your license use, so we can assist you on choosing the best plan for your organization.