When modifying Ragic
templates
, please note that there are limitations based on your
subscription plan
. For example, the
Lite plan
allows 5 custom sheets, which refers to redesigned template sheets and sheets created
from scratch
. If you subscribe to the
Professional plan
, you'll have unlimited custom sheets. This applies for both the
free trial
and
paid subscription
.
Note: If your account is downgraded from Professional to Lite or Free plan because you have ended your free trial or discontinued your subscription, the free templates you have redesigned will be reverted to their original designs.
Modifying the Design of Your Templates
To modify the design of a sheet in an installed template, you can click Change Design on the sheet's form page or listing page to enter the design mode.

Add, Delete, or Modify Fields
You can create a new field by clicking on any blank cell and typing the field name.

To delete fields, right-click > delete or press the Backspace or Delete button on your keyboard. Please note that a warning message will pop up if you delete fields that are referred to by formulas.
In addition, if a field is linked to other sheets, it can only be deleted after the link is removed.

To change a field name, go to the left panel under the design mode.
Field type can also be changed in the left panel of the design mode. However, changing field type may affect the saved field value and formula calculation. For example, changing a Free Text Field to a Numeric Field may clear out the field values; and changing a Numeric Field to a Free Text Field may affect its numeric calculation.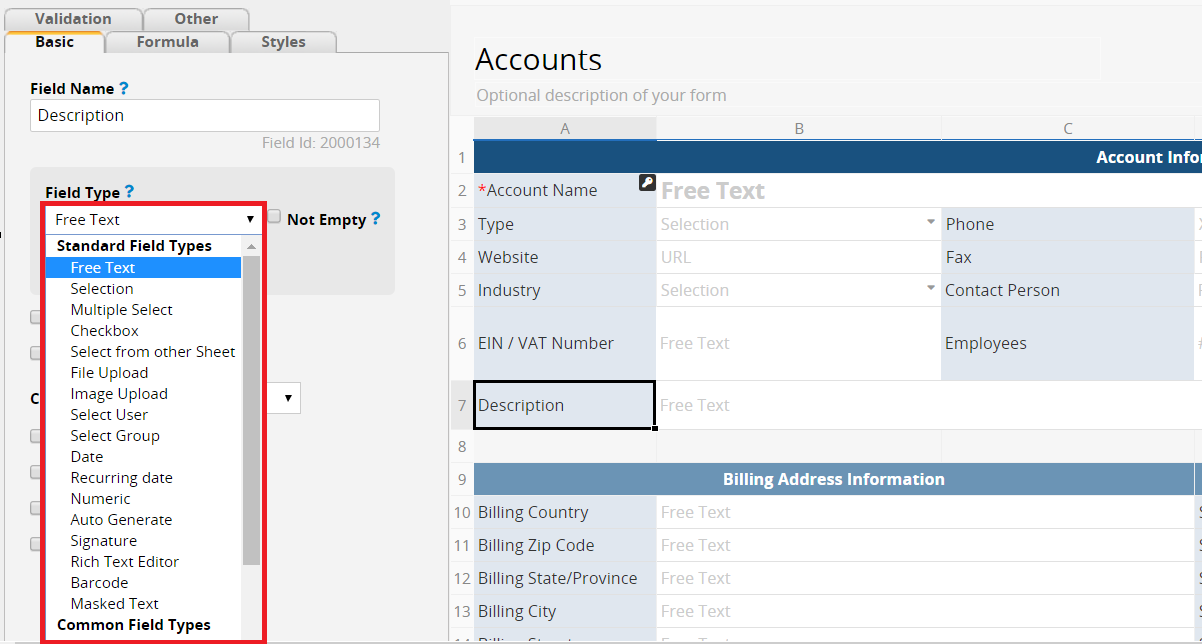 Modify Linking Relationships Between Sheets
Please note that modifying relationships between sheets which are linked through Link & Load, Multiple Versions, New Sheet from Subtable and Show References from Existing Sheets will change the original structure of the template. For more information on Ragic linking tools, please refer to this page.
Modify Custom Action Button Settings
Please note that modifying custom action buttons Convert Records, Update Values, Update Value On Another Sheet and Send Custom E-mail will affect the original function or workflow of the template. For more information on custom action buttons, please refer to this page.
Note: Currently, template sheets can not be rearranged or moved to other tabs.