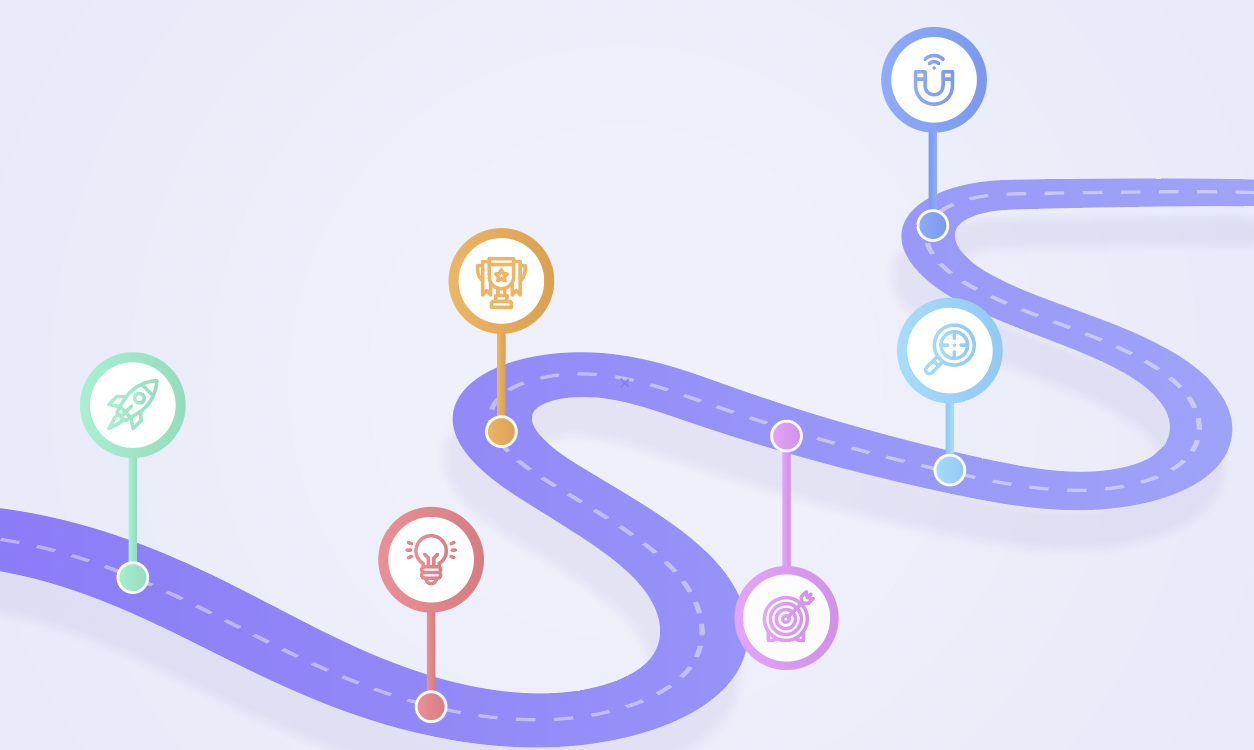 We've been keeping you in the loop with our feature updates on social media, but we realized we haven't really shared our long-term vision and roadmap – where Ragic is headed.
To help you understand Ragic's goal, our founder, Jeff, shared Ragic's Product Roadmap on our community forum. While it's a bit long, we hope it gives our dedicated users who rely on Ragic a clear view of what's coming next on their Ragic journey.
1. 🦾 AI
Generative AI is now our top priority on the product roadmap as it has the potential to simplify learning and building databases in Ragic. Compared to other no-code solutions, Ragic, while powerful, can be complex and time-consuming for new users. With GPT AI, we see a promising solution to simplify the Ragic learning process. Here are the upcoming features using GPT AI Technology:
Ragic Builder Bot 🤖:Simply command it, like "Create a CRM system for a construction company," and it builds a fully functional Ragic app. This helps scaffold applications quickly and provides users with a real example based on their needs.
This would solve a lot of problems for users who just don't know how to get started with Ragic.
Ragic Q&A Bot 🤖:Think of it like a ChatGPT bot but tailored to Ragic. Ask questions, and it retrieves answers from Ragic's documentation, courses, and knowledge base.
AI Design Bot 🤖:Automate formula or REGEX generation, making the 'complicated and technical task' of building a database way much easier.
Documentation and Learning Resources Updates📖 :We'll update our documentation and learning materials, integrating Ragic AI as one of our core learning tools, saving time and enhancing the Ragic learning experience.

2. ⚙️ Integrations


We recognize the significance of integrating Ragic with users' existing platforms, especially since our primary audience comprises enterprises that often rely on multiple software solutions for their operations. Integration has always been a big part of Ragic product development, we believe there's so much more we can do.
Integration Platform Support👩🏻🔧: Ragic currently supports Zapier integration. New integrations for IFTTT and Make.com (formerly Integromat) are currently under testing and review, which should be available soon. For the next move, we're exploring integrations with enterprise-level applications like SAP and NetSuite, Workato, Celigo, and Boomi.

Notification & Reminder:Ragic currently sends reminders and notifications via email, mobile app push notifications, and desktop alerts, we're planning to extend these notifications to messaging services such as SMS, Slack, WhatsApp, LINE, and other popular platforms based on user demand.


Cross-Ragic Account & Server Integrations👨🏾🔧:With Ragic's increasing popularity, we see the value in features that enable actions across different Ragic accounts, like "cross-account convert record". Additionally, Ragic partners will soon have the ability to share their application designs in the Ragic template library for free or via an annual template subscription fee.

Marketplace Integrations🗻:Ragic is currently available on Google Workplace Marketplace, AWS Marketplace, QNAP & Synology Application Center. We're planning to deepen these integrations and expand to platforms like Microsoft Teams, Stripe, and others, providing users with seamless access to Ragic.
3.
📊 Reporting
Reporting has posed a challenge for app builders, as we often find ourselves in direct comparison with dedicated BI and reporting software. Ragic's approach has been to serve as a reliable data source for users, allowing them to integrate their preferred BI tools.
However, we've recently noticed that functions like widgets within Ragic sheets offer users significant convenience compared to using separate third-party reporting tools. As a result, we're committed to enhancing our reporting features to provide a superior experience within Ragic:
Widgets📊:We've introduced widgets this year to transform Ragic sheets into tools for both data entry and query and a broader data perspective. We're actively working on expanding widget functionalities, exploring various types, and we eagerly welcome your input for additional features.

Dashboards📈: Our customizable account home dashboard made its debut recently. Soon, we'll launch a customizable report page dashboard, addressing high-demand UI needs. Your suggestions for new block types will be highly appreciated.

Mail Merge📄:The current mail merge function is based on a pretty old version of an open-sourced library. We're rewriting the mail merge function with modern tools to enhance support for features like extendable tables in Word documents, PDF generation, and resource optimization.
New Types of Reports📌:We regularly incorporate user input to introduce new report types. Currently, we're working on a correlation analysis report and radar chart, with more to come.
Report Center🎯:Our new report center serves as a repository for past reports and facilitates asynchronous and automated periodical report generation. This approach ensures efficient processing for lengthier reports, allowing users to monitor progress without keeping a tab open and access previous reports with ease.
4. 👨🏻💻 Enhancing User Experience
Large Subtables📜:We're addressing the issue where subtables with numerous rows slow down the entire sheet. Our solution involves implementing lazy rendering techniques and subtable paging to ensure smooth handling of large subtables.
Responsive Web App📱:Currently, when you open a Ragic sheet on a mobile browser, it appears as it does on a desktop browser. We're introducing a responsive version for mobile browsers, akin to our native iOS and Android apps using Flutter on the web. This enhancement promises a significantly improved user experience for those accessing Ragic links without the Ragic app installed on their mobile devices.
Offline Mode🔌::While implementing offline mode necessitates a substantial rewrite of Ragic's architecture, it holds the potential to boost UI speed and allow users access even with limited internet connectivity. Offline mode will be available on both desktop browsers and mobile apps.
Record Insertion and Manual Sorting🖐🏽:We're enhancing the flexibility of record organization. Currently, records on listing pages and subtables can be sorted using specific fields or by creation order when no sorting is applied. Our goal is to enable users to change record order via drag-and-drop and insert records at specific positions, even when the default creation order is active. This functionality will be available for both subtables and listing pages.
More Language Support🔁:Ragic currently supports English, Chinese (Traditional and Simplified), Spanish, and Japanese. The French version is currently under development. We plan on adding more languages including German, Arabic, and Korean as the next step.
User feedback has always been a very important contributing factor to Ragic's growth. We welcome input and discussions; please share your thoughts in our community forum
Category: What is Ragic, Learn Ragic