Running a support portal in a smaller company means that you might not have access to assign an entire customer support team to serve your clients, or that all employees would need to pitch in and help out customers when they need to. Keeping track of conversations, and making sure that everyone is kept on the same page might prove challenging.
Whether you're using a support portal service, or are managing your customer support via e-mail, here are some tips on customer support for your company.
Setting up a self-service portal to help customers
A support system that includes a self-service portal such as a FAQ for a small company, or a knowledge base that has answers to questions and includes how-to's is the first line in customer support. This type of self-service portal requires commitment to maintain, but in the end it's worth having your customers knowing where to get answers first.
To begin with, you can start gathering frequently asked questions, and compose a succinct answer to each question that covers all aspects of the question. The source of the question can be your received e-mails, phone calls, your social media channels, and anywhere else.
As you receive more questions, you can add into your knowledge base.
You can also link to related questions based on the topic and keywords.
Make sure to keep your knowledge base as well as other information you make available to your customers up-to-date with your newest products, services, and features. This will ensure that they spend the least possible amount of time getting answers they're looking for, and also saves you time in answering questions you receive.
Let customers know how to reach you
Customers have their own personal preferences on how to reach out for help. Think about your own experiences, you might have called a florist with the phone, but preferred to e-mail your network provider for customer support.
Make your contact information such as your company phone number and hours, support e-mail address, live-chat link, and even your twitter handle in a prominent location in your website or support portal. If you have a physical location, make sure that you have an embedded map along with your business hours on your website.
Prioritize
Clients usually don't expect an immediate answer to a general question they submit, but if there is a problem that needs attention right away, make sure that the client receives an answer in time.
For this, you may need to prioritize more urgent requests, and answer these first, then get to the general questions. A good ballpark on answering general questions is 2 work days, but you can use the business triage model like the image below and figure out the timeframe to answer questions depending on your own workload.
Make sure that your team is on the same page on which types of questions get a priority, and how to escalate these questions if necessary.
Having canned messages on hand for general questions is helpful to give out quick answers, but make it personal by customizing the answer to fit the question properly, there's nothing more frustrating than receiving a response that has little to do with the original question.
Keep a conversation history
Make sure that everyone in your team providing customer support has access to information about previous conversations with the client. To do this you will need a centralized support inbox where previous interactions are kept, and are searchable. The same conversation is more often than not kept in the same thread in most tools available, including most of the modern e-mail services.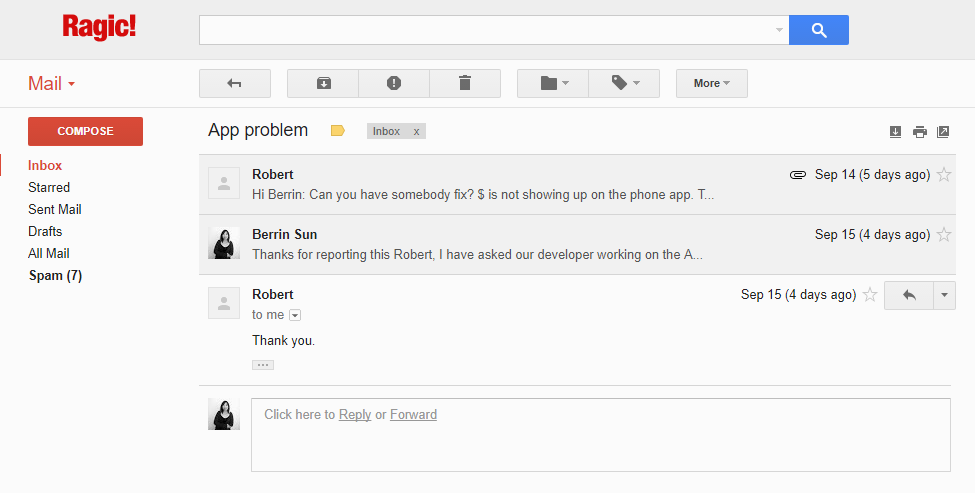 This will help you see what has been discussed beforehand, and answer follow-up questions, even if it's not the same person continuing the conversation or an e-mail thread.
To run this smoothly, you'll need to make sure that all coworkers answering clients skim through previous messages when they're taking over from someone else to avoid repeating follow-up questions, and to understand the situation. Sharing updates and notes internally can also be helpful.
Here at Ragic we have an internal ticketing system that we created to work with Ragic, which we also made available to install for Ragic account owners.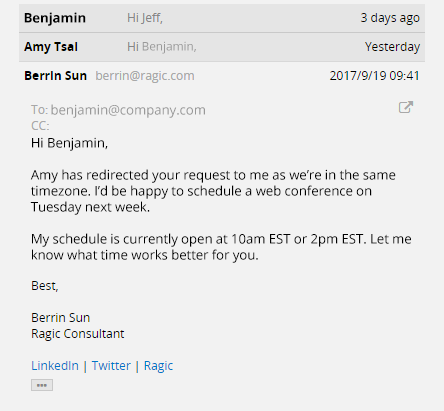 Using Ragic's filtering options in this case makes it quite easy to list a users' conversation history, which helps us take over tickets that we're assigned to without having to get all the details from our colleagues.
Follow up
Not following up with a customer would lead to losing them, as they'll not know what the next step might be. Make sure that the client is updated on solutions as possible, or give an ETA on the situation.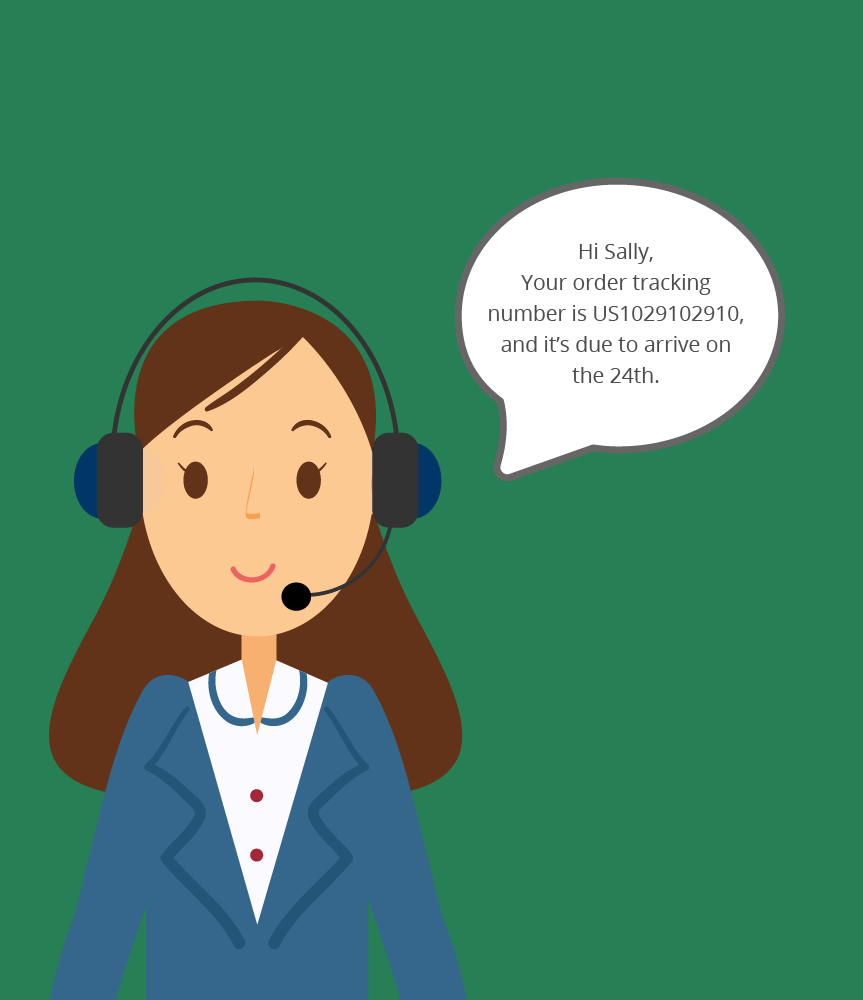 Communication is the main key in all of the above points. Here at Ragic, the support portal system we built that I mentioned above makes us organize e-mails that still need to be answered in a neat way, which makes it easier to follow-up with. This makes it easier for our staff to collaborate with Ragic users to resolve problems faster.
As we're a software company, we also have a bug tracking system in place. Just noting down the account or user that reported a bug that they found makes us get back to them immediately when a bug is resolved and the solution is online.
Similarly, we add the user as a note to our bug tracker for feature suggestions that they make. This way we are able to track how many users have suggested a specific feature, and follow-up with them if the feature is implemented. The users are more responsive in giving feedback for newer features in this manner, and it's great to collaborate with users to see whether our implementations are intuitive and useful for our users.
Our support portal here in Ragic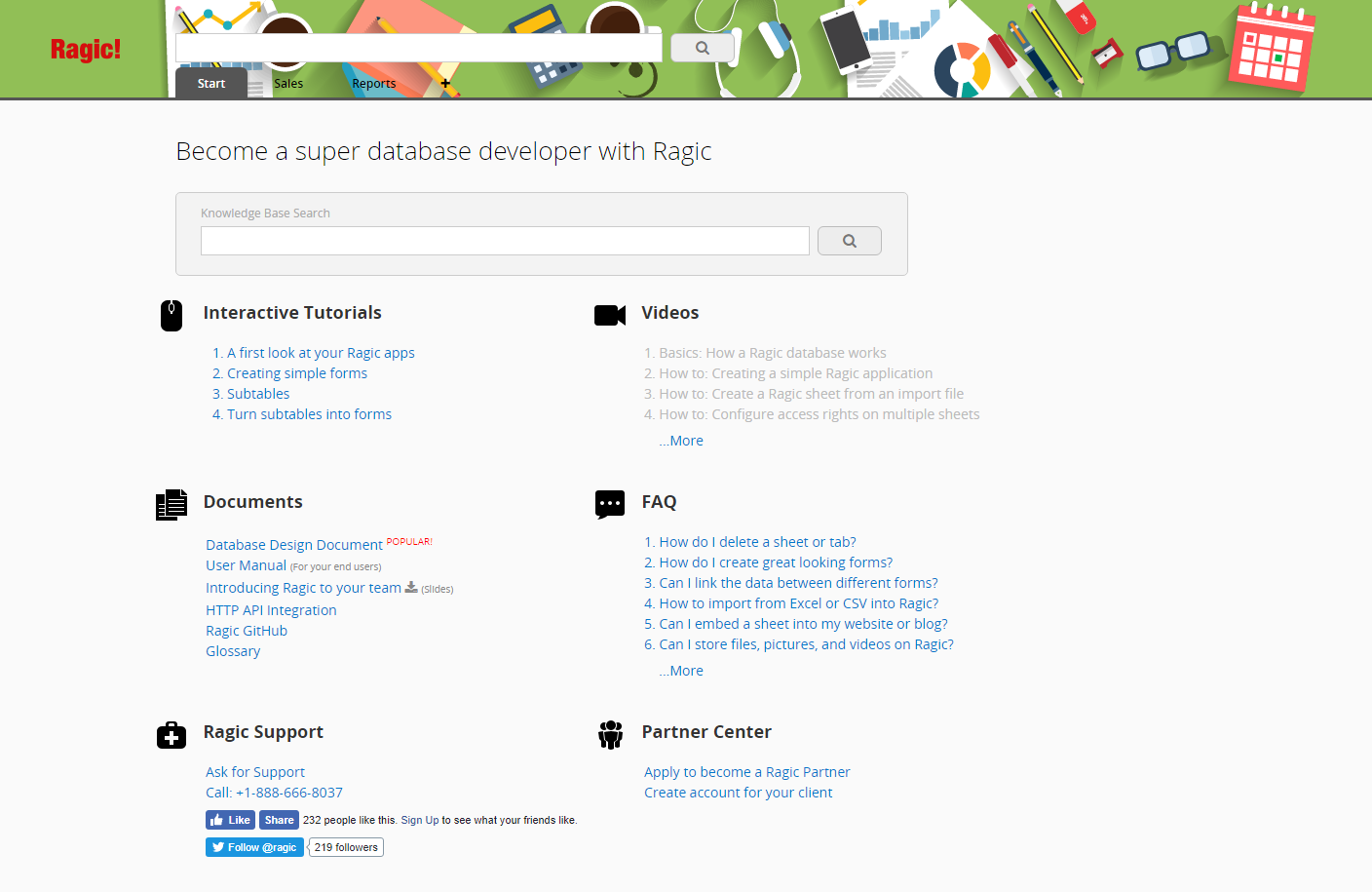 Our 'Learn Ragic' section that users can access within their account is a great place to search our knowledge base (which we created by looking at patterns in support tickets) with keywords, and user guides. We also link to many tutorial videos and other self-help options, such as interactive tutorials that take clients through setting up their first database sheet.
The support ticketing system we internally use here at Ragic is connected to e-mails received through our support e-mail address, tickets submitted through Ragic online, voice message recordings that we receive outside office hours, and some other sources.
The advantage of this is that we see all submitted tickets in one place, edit the priority if necessary, reply directly within the system that sends out an e-mail, and the ticket gets marked as done automatically when we answer a question or resolve a problem, which gets filtered out from the displayed messages in the listing page, which is used like an inbox. The default filter shows only the active tickets, but we're able to look at past tickets when we need to, and resolve issues much quicker than traditional e-mail.
We also assign tickets to others depending on the situation. If it's a technical question, one of our developers would probably get assigned. We're an international team, so if the client is in North America, I would most likely be assigned if it's something that might involve a quick call in my timezone.
Using other support portal systems
There are a good variety of support portal systems out there with different bells and whistles. To find the right one that works for your company, first list out the immediate requirements that prompted you to search for a support portal system, and plan your budget.
A self-service option is always a good start, customers usually try looking for an answer before contacting support. Having a knowledge base and a good search engine that ties to it helps in this regard.
Decide if you want to connect your support e-mail to a system. Some products such as zendesk and helpscout make it easier for your support staff so that customers can update directly on an issue with an existing ticket number so that you can resolve everything on a single thread. zendesk also supplies a knowledge base system you can fill in, while helpscout lets you view performance metrics in a detailed way.
Customer community platforms such as getsatisfaction and discourse let your clients help each other by submitting and answering questions. These usually include a voting system for most-wanted features, so getting to see this type of feedback might be useful especially if you're in the software business.
Similar to the community platforms, bulletin board systems (also known as forums) are still a popular choice to allow clients to communicate with each other. vbulletin and vanillaforums are both well-known options that you can integrate with your website and increase customer engagement.
We will be reviewing these support portal options in another blog post soon, so stay tuned!
Customer Support through Social Media
Last but not least, don't forget to monitor comments and messages you receive through your social media accounts
such as facebook, twitter, and LinkedIn on a regular basis.
Remember, these are not channels where you only do marketing and leave alone in other cases. Customer engagement proves very important in these platforms where everyone expects fast-paced answers, so having a dedicated social media manager might work if you're a larger company.
When customers reach out through these social media channels if you don't have a dedicated staff member that replies through these channels, point them in the right direction whether it's an e-mail address where you can resolve issues more swiftly, or a tutorial article if it's the reply to the customer's question.
Conclusion
We're all here to provide better customer support and provide ways for clients to access us when they need to.
Let us know what challenges you have faced while setting up your customer support portal in the comments!
Category: Applications, For Your Business